If you have experienced a water damage loss in your home, act fast because quick response is critical in limiting the damage. Call NOW! Get our 24/7 emergency response team headed in your direction. Our goal is to respond within 3 hours in order to reduce the absorption of the water into the building materials and reduce overall drying time.
Water Damage Restoration Experts in Central Oregon
Goal of Work
Our shared goal is to return your property to pre-loss condition as quickly as possible. Our first priority is your safety and peace of mind. Our cutting-edge methods and high tech equipment combined with highly experienced technicians allows Mountain Air Restoration to professionally restore your home in minimum time. Our team members are certified for Restorative Drying by the IICRC (Institute of Inspection, Cleaning and Restoration Certification) the industry standard of care for Water Restoration Technicians. We endeavor to help our client through this difficult circumstance with professionalism and understanding during the restoration process. Our dedication to your satisfaction is evident in our Motto "We're not done until you're satisfied!"
Water Extraction
Inspection
Dehumidification
Air Movers
Monitoring
Documentation
Certified Restoration Contractors
Water Extraction
Our high powered water extraction equipment really sucks! (in a good way)
Any standing water will be forcefully extracted using a portable water extractor and light wand attachment. This initial extraction of the affected area will contain further migration of water within the structure decreasing drying time mitigating further damage.
Deep Extraction: a sealed or weighted tool will remove maximum amount of water from materials such as carpet and pad, this will save building materials, increase evaporation, and reduce drying time. (This saves you and your insurance co. money!)
Water removal by extraction is 12 times more efficient than evaporation alone.
---
Inspection
During the initial inspection, we determine the extent of water damage which allows us to formulate and implement an effective restorative drying plan.
Moisture meters allow us to map the extent of water migration, and determine degree of saturation of affected materials.
Initial temperature, relative humidity, and specific humidity readings are taken to be used for comparison during the drying process.
Ongoing inspections will be conducted throughout the drying process to assess changes in the drying environment.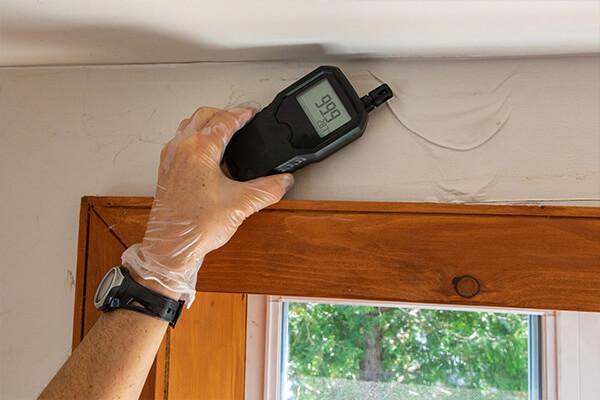 ---
Dehumidification
This is how we take water vapor out of the air. Our standard is to get the relative humidity below 60% quickly to prevent secondary damage to your home.
We use cutting edge low grain refrigerant industrial dehumidifiers that are engineered for the demands of water damage restoration.
These high tech units operate extremely efficiently removing up to 130 pints of water per day while conserving electricity use at the job site. They also allow us to remotely monitor the drying progress.
---
Air Movers
We employ DRI-EAZ Jet CXV axial air movers. An extremely efficient and powerful unit that pushes air at 3200 CFM (cubic feet per minute) while drawing only 3 amps of electricity. (Comparable units commonly used by competitors push only 2250 CFM while drawing up to 7.2 amps!)
Also in our air moving arsenal are DRI-EAZ Sahara HD Turbo Dryers. These units are specifically designed to dry carpets and walls. It has the ability to push air around corners creating a continuous flow of air throughout the structure.
We can use these air movers with interair drying attachments that allow us to effectively dry inside wall spaces, behind cabinets, under hardwood floors, and in other structural areas, saving time and reconstruction costs.
Additional assets in the air moving arena are the high powered Vortex Axial Fans. These help create negative pressure in water damaged areas that will prevent cross-contamination to other parts of the structure. These fans can also be utilized in an open drying system to introduce warm dry air from outside when weather conditions permit, further expediting the restoration process.
Water Damage FAQ
Water damage insurance claims depend on a few different criteria. Ultimately, that's a question you'll have to clarify with your insurance company. However, we can tell you that the viability of water damage insurance claims depends primarily on what caused the damage (storm, burst pipe, plumbing malfunction, localized flood, sump pump failure, etc.). Some insurance policies will outline scenarios that will NOT be covered without specific riders like flood insurance, or sump pump failure insurance.Contacting a restoration contractor as well as your insurance adjuster at the same time is a good idea, because the restoration contractor will help make sure that not only will the water extraction and dry out be covered, but the rebuild process that should follow. If the full scope of the claim isn't outlined and agreed upon from the start, there may be issues down the line, and property owners may find themselves having to pay out of pocket to get the property completely back to normal.
That depends on the types of materials that were affected by water. Drywall, carpet, and hardwood floors will take longer to dry than other materials in the space. We use moisture meters throughout the process and in many different locations to gauge the moisture levels and will continue to adjust our fans and dehumidifiers to achieve an efficient but effective dry time. The bare minimum of "three days to dry" may only produce a surface dry, but can still leave behind moisture levels that create an ideal environment for mold to grow.
Most homeowners start trying to remove the water themselves before they realize they'll need to contact their insurance company about a claim so they can call in a water damage restoration company. However, standing water around anything with a power cord or outlet or sagging ceilings make the area unsafe. Also, many insurance claims require documentation of the loss BEFORE any work is done, including removing the water. Always take plenty of photos of the damage you see before taking any action to start cleaning up the mess. Your restoration contractor will be able to back up your insurance claim scope with the necessary technical documentation as well.
If the water damage involves Category 1 water (clean and free of microbes and bacteria), many of your personal belongings can be salvaged. Category 2 water would include other water sources, including rainwater, that, while not containing biohazards or sewage, still pose health risks and the potential for destructive microbial growth and mold. A water damage restoration technician will help you sort through the contents of the property to determine what can be safely dried, what can be restored by a textile/contents technician, and what can't be saved or salvaged. There are off-site facilities in the area that specialize in restoring water-damaged contents. Your restoration team will document all of the contents leaving the property for restoration or disposal for your records and also for reimbursement from your insurance company.
Identifying the source of the water damage is one of the first steps in both the insurance claim process but also before beginning to dry out and repair the damaged areas. After all, if you replace a sagging, wet ceiling that was caused by a roof leak but don't fix the roof, too, the next rainstorm will start the cycle all over again. The buckling to your hardwood floor could be caused by a leaking pipe. We will pinpoint the exact cause of your water damage and make sure the source is repaired. We make sure your restoration job is done right the first time.
---